When it comes to smart homes, many people think of smart lights, door locks, thermostats or security cameras. But what about automating your curtains?
Automating my curtains was the last thing in the house that would have come to my mind. Who would have taught that you need smart curtains in your home? Well, SwitchBot did.
When they reached out to me and asked if I wanted to try their SwitchBot Curtain, of course, I had to try it.
The SwitchBot Curtain can turn almost any old curtains into smart automated curtains.
At the time of writing, I have used the Switchbot Curtain Rod 2 for the past five months. So how did it hold up? Is it any good? More importantly, do you need smart curtains?
To answer the last question, when I first installed the SwitchBot Curtain and showed it to my wife, her first words were – When will you order more for the rest of the rooms?
Pros
Easy to install
Inexpensive
Voice assistant support
Support for HomeKit (via Hub 2)
Convenient to have
Disclaimer: This review was produced thanks to a review sample provided by SwitchBot. This does not influence the outcome of this review, and SwitchBot had no input on this review. All opinions expressed are my own and based on my experience using the SwitchBot Bot. You can check the Ethics Statement here.
What's in the box
SwitchBot Curtain with a hook pair

USB type C charging cable 

Beads fixers

4 Clips 

Extendable Rod helper
In the box, you will get everything to get you started with almost any curtain you may have. SwitchBot have a great help page on their website where you can check the compatibility of your curtains. Click here to check the SwitchBot help page.
Design
SwitchBot offers their SwitchBot Curtain for any curtain rail you may have in your home: Rod, U Rail, I Rail.
The SwitchBot Curtain comes in two colors. White and Black so you can choose a color that best matches your needs.
The body is plastic with an Anti-UV coating and houses a rechargeable battery. The front side of the Curtain Bot only has the SwitchBot logo. You will find the USB-C charging port, reset button, and indicator light with a light sensor on the backside. The top of the body houses the motorized wheel.
The hooks for the Rod 2 are made from metal and are easily extendable. They can fit curtain rods with a diameter of 15 to 40mm. On the top of the hooks, you will find the Curtain tracks with a set of wheels: one in front and one in the back. All the wheels have a rubber coating for better traction.
The Beads Fixer and Clip accessories are made of transparent and white plastic.
Depending on your type of curtains, the SwitchBot Curtain can be almost invisible once installed. On other types of curtains, such as the Tap Top or Ring Top, the Curtain Bot will be visible but, after a few days, will become unnoticeable as you will get used to it.
Installation
The installation was super easy. The SwitchBot app has a very good built-in user guide, so the entire installation took only a few minutes.
To turn on the Curtain bot, press and hold the button for two seconds until the indicator light starts to flash. You will likely have a new firmware update available, so you must update the firmware next. The update took less than a minute.
In the next step, you will need to choose which mode you will be using: "Open from a side" or "Open from the middle" After that, you will be asked to name your Curtain Bot and place it in a room.
Next, you must select the track type: U Rail, Rod, or I Rail. Since I have the Rod 2, I will select that at the next step. You will also need to choose the type of curtain you will use.
After this, you will get a complete installation guide based on the selected rail track and curtain type.
Once you have installed the Curtain Bot on your curtain rail, the last step that you need to complete is the calibration. The Curtain Bot needs to learn the length of your track.
There are two modes available for calibration: Automatic and Manual. In the Automatic mode, the Bot will start to go left and right on your rail track and find the start and end points automatically.
In manual mode, you will need to define the start and end points manually by positioning your Bot at the start and end of your track using the app.
After the calibration process is complete and you have a Hub nearby, it will be detected automatically, and you can choose to link your Curtain Bot to the Hub to enable voice control.
Once the full set-up is completed, you can ask your favourite voice assistant to open and close your curtains.
Features
The SwitchBot Curtain offers plenty of automation features to fit your needs. You can also pair it with additional SwitchBot accessories to bring the most out of it. Mind you, for most things, you will want to and need to.
Additional accessories: 
SwitchBot Hub mini

SwitchBot Hub 2

SwitchBot Meter / Meter Plus

SwitchBot Remote

SwitchBot Solar Panel for Curtain
The SwitchBot Curtain works over Bluetooth and connects to your phone directly. This is not very convenient. You need to pull out your phone and find the SwitchBot app whenever you want to open or close the curtains. It's way faster and easier to walk up to them and open or close them yourself and eliminates the entire purpose of the Curtain Bot.
However, you can unlock the SwitchBot Curtain's potential when you pair it with the SwitchBot Hub Mini or the Hub 2.
You can enable cloud access and voice assistant support when paired with a hub. Now it becomes much easier to control your curtains as you can ask your favorite assistant to open and close them for you.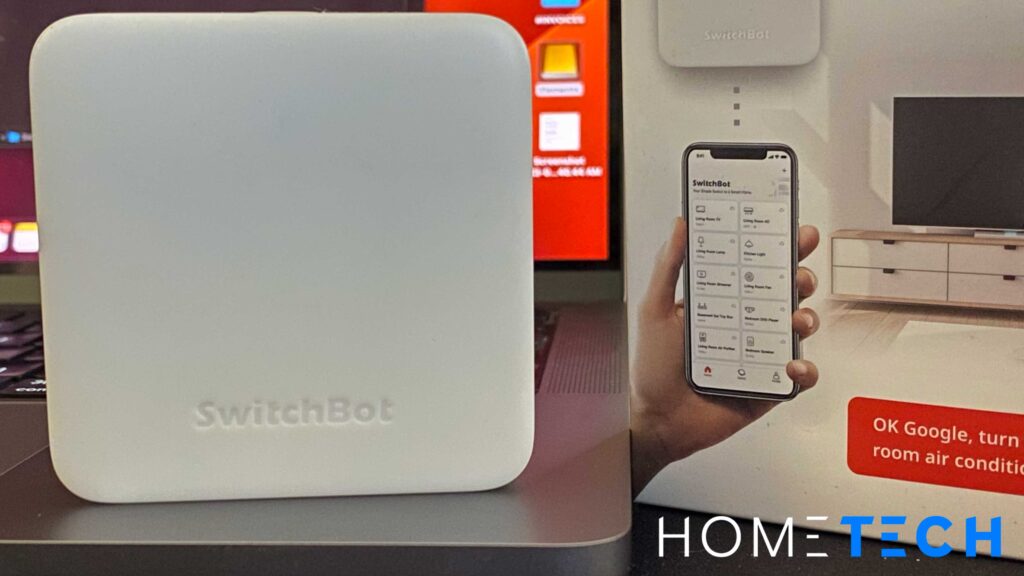 If you are a HomeKit user, I suggest the Hub 2 over the Hub Mini. If you use HomeKit and you pair the Curtain Bot with the Hub mini, you can only use Siri voice commands via the Shortcuts app. If you pair it with the Hub 2, you can use Siri natively, as the Hub 2 supports Matter, and the curtains will appear in the Apple Home App.
If you use Alexa or Google Home, you will be just fine with the cheaper Hub mini.
Once you experience automated curtains it is very difficult to go back.
You can also pair the SwitchBot Curtain with the SwitchBot Remote. A simple two-button remote control that you can place anywhere in your home. It comes with a wall mount so you can mount it on your wall. You can use one button to open and the other to close the curtains. If you don't need voice assistant support, consider the remote as an alternative. The remote connects to the Curtain via a direct Bluetooth connection for reliable local control. I would highly recommend the remote if you will be buying the Curtain Bot.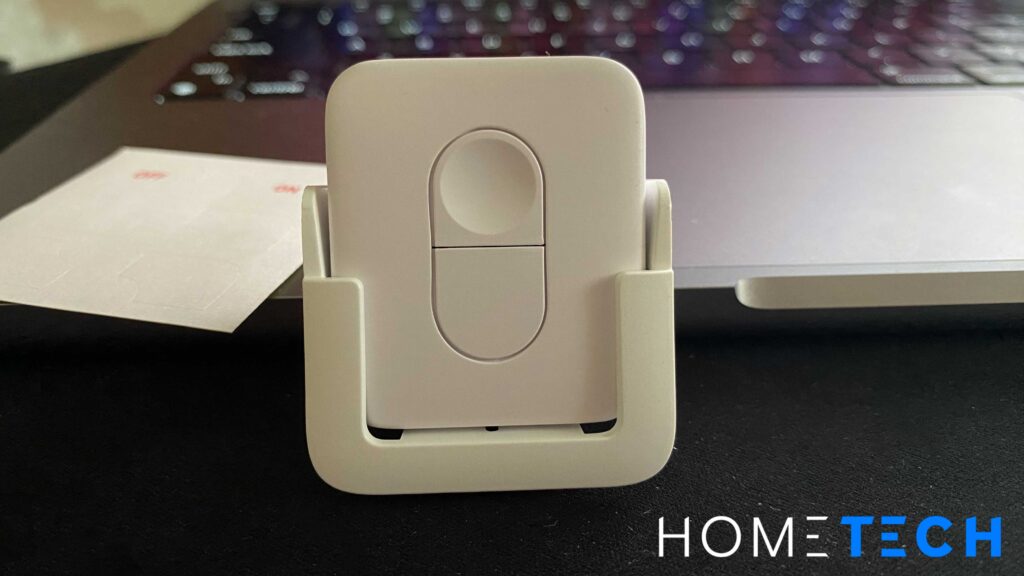 You can use the built-in light sensor to set up automations based on the amount of light that comes through your windows. You get a chart that shows you the light level, and based on that, you can set up on which days you want the curtains to open and close or how far they should open and close. You can also check the light level your SwitchBot curtain receives before you opt-in for the optional solar panels. Light level six is a minimum requirement for the solar panels to work.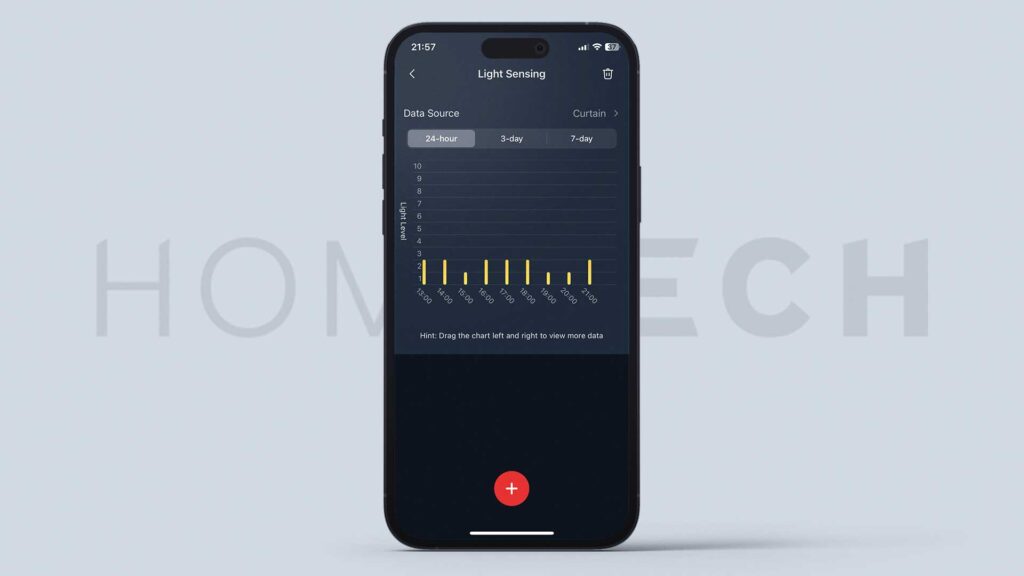 You can automate your curtains based on the temperature when paired with the SwitchBot Meter or the Meter Plus. If it gets too hot, the curtains can close automatically. When the temperature drops, they can open. You can also restrict the time the automation is active to avoid opening and closing your curtains at night.
You can also set up simple automation that opens and closes the curtains at a specific time of the day. So you can set it as your morning routine. Keep in mind that if you will be using it in the bedroom and you are a light sleeper, the sound of the curtains opening might wake you up.
Another feature is the Touch&Go which still provides a manual way of opening and closing the curtains. Pull slightly on the curtains, and the motor will activate opening or closing your curtains. You have a split curtain? No problem. The Touch&Go feature will open both sides automatically.
Performance
Let's move on to performance. There are two modes for the SwitchBot Curtain: Performance mode and Silent mode. By default, the Curtain Bot will be in performance mode, but if you prefer, you can easily switch to silent mode in the app.
In the performance mode, the curtains will open at the maximum speed. In silent mode, the curtains will open and close more slowly with reduced noise. But there is little difference between the two modes, and it will be almost unnoticeable.
In my testing, I found that the performance mode is acceptable regarding noise levels; however, the noise may bother some people.
If you don't care about the speed your curtains will open or close, you can use the silent mode. I found both methods to be perfectly fine. Again there will be little difference between the two modes.
I will use my living room curtains as an example to give you an idea of the two modes. I have double-sided curtains meaning that they are split in the middle. The total rod length is three meters, so each Curtain Bot has to cover 1.5 meters (4 ft.)
In performance mode, it takes 16 seconds for the curtains to open and close, and I measured a noise level of 47 dB. It took 17 seconds in silent mode, and the noise level was 43 dB.
As you can see from the measured noise level, it's nothing too crazy. To give you a perspective a whisper is around 30 dB, and a typical conversation is approximately 60 dB.
However, the whining noise of the motor can make it unpleasant for some people.
Battery life is also great. SwitchBot claims eight months of battery life on a full charge.
When I installed the SwitchBot Curtain, it had an 87% battery. After five months, there is 27% battery left. So the battery life should be on par with what SwitchBot is claiming. Not to metion I used it much more frequently during my testing before settling into a daily routine, and most of my testing was in performance mode, which I use daily.
You can add optional solar panels to your SwitchBot Curtain, keeping the battery topped up. For the solar panels to work and provide optimal charging, you must have at least a light level of 6 and above. You can check this in the app; however, I suggest buying the Curtain bots first and after a few days once you have enough light data you pick up the solar panels afterward.
Conclusion
The SwitchBot Curtain is great. It's easy to use and install, but how much does it cost?
Well, the SwitchBot Curtain costs 85 EUR (99 USD). You will need two Curtain bots if you have a split curtain like me.
Then there are the other accessories to consider, like the Hub, that you will need if you want voice assistant control. The Hub mini cost 35 EUR (39.00 USD), and the Hub 2 is 79.99 EUR (69.99 USD). Then there are the solar panels which are 25 EUR (19 USD).
You can see that the cost starts to add up. On the other hand, the Hubs will give you additional benefits.
Either Hub has a built-in IR blaster so you can control your Air Condition or any old IR devices you have.
If you use Google Home or Alexa, you can start to control them by voice.
To answer the question from the beginning: Do you really need smart curtains? The answer is No. But once you automate your curtains, it is very difficult to go back.
And the SwitchBot solution remains much cheaper even if you factor in the additional accessories than a professional install solution, as you don't need to replace something you already have and have new tracks and rails fitted.
Will I be ordering more? Yes, I will definitely order more for the rest of my rooms.
SwitchBot also runs frequent deals, so you can get discounts if you buy more than one unit or go for combo deals. Plus, you don't have to equip your entire house at once.
SwitchBot also offers a 30-day return period, so you can always get one and see for yourself.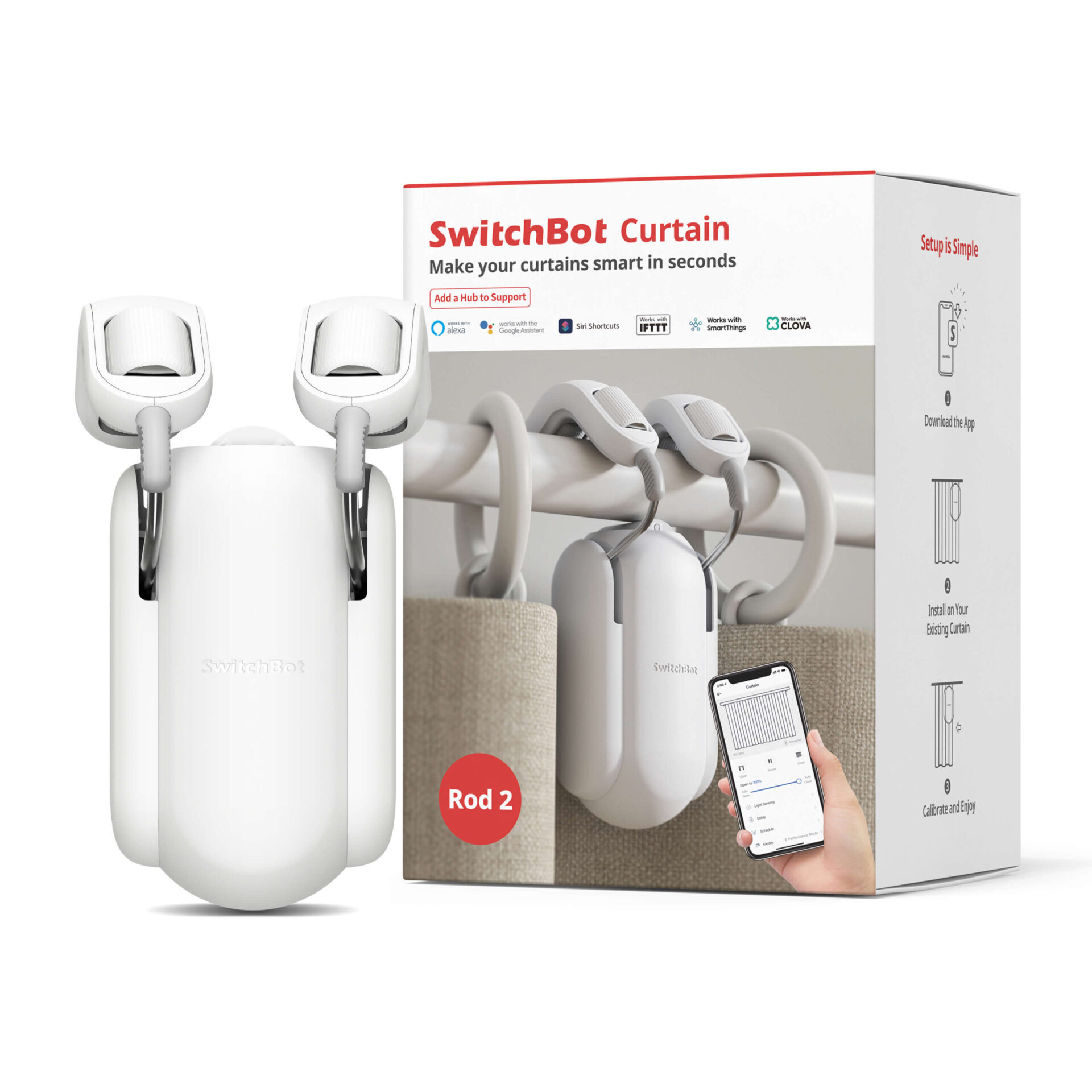 SwitchBot Curtain Review Rod 2
Final Thoughts
The SwitchBot Curtain is fantastic if you are looking to automate your curtains. They are inexpensive compared to a professional solution and easy to install.
Pros
Convenient to have
Easy to install
Inexpensive
Lot of automation options
Voice assistant support (requires Hub)
Full Specs
| | |
| --- | --- |
| Dimensions | 84x76x143 mm (3.3×3.0x5.6 in.) |
| Weight | 285g |
| Color | White/Black |
| Material | ABS plastic with Anti-UV coating |
| Power | Battery powered |
| Battery life | approx. 8 months |
| Battery type | Built-in rechargeable Lithium ion |
| Mode | Performance/Silent |
| Connectivity | Bluetooth 5.0/Long Range |
| Range | 80m/262ft. with a direct line of sight |
| Compatibility | Android 5.0+ / iOS 11+ / watchOS 2.2+ |
| Voice assistants | Google Home, Amazon Alexa, Siri Shortcuts |
| Third-party services | IFTTT, Smart Things, Home Assistant |
| Price | 85 EUR, 99 USD, 85 GBP, 1299.99 CAD |
This review was produced after five months of using the SwitchBot Curtain provided by SwitchBot. The opinions in this article are my own, and SwitchBot had no editorial input in writing this review. They are reading it for the first time right alongside you. You can check out the HomeTech Ethics Statement here.
Affiliate links:
If you want to check out SwitchBot Curtain and other SwitchBot products, click here.
If you want to purchase the SwitchBot Curtain directly from SwitchBot, click here.
Amazon links: Amazon.com