The Swedish furniture giant Ikea became a big player in the smart home space. Ikea no longer only sells furniture with names you can't pronounce but also sells smart home products. Still with unpronounceable names, but you may find them interesting. This article will cover the Ikea Smart home product lineup and which devices you will need to start and set up your smart home using Ikea products only.
Why Ikea smart home products?
So why would you choose Ikea products over more well-established brands such as Philips Hue or LIFX?
The simple answer to that question is price. Yes, the Ikea products are cheaper than those of Philips or LIFX, for that matter.
For many people, price is one of the most important factors when deciding to go with one brand or another. Despite the initial expense, Ikea-enabled smart home will cost less than a LIFX or Philips setup, where a single bulb can easily cost 25 EUR and more. Depending on which one you choose, you can pick up 2 or even 4 Ikea bulbs.
Ikea already offers a wide range of smart products ranging from bulbs to smart speakers. Their latest addition is the Ikea shortcut button and the Ikea motion sensor. Both these products recently received HomeKit support. This further expands the possibilities of the Ikea range. With this addition to the Ikea smart products family, it's only a matter of time when there will be support for more devices.
It looks like Ikea is not slowing down. You can be confident that Ikea will be releasing more and more products to its range.
How Ikea smart products works?
Before you head to Ikea to buy any products, you need to understand how these products work and your setup options.
If you have already looked into any other brands, you may already know that you can buy three types of accessories. The first type is WiFi-enabled. The second one is Bluetooth enabled. The third type uses its own wireless network. WiFi-enabled bulbs will connect directly to your WiFi network. The Bluetooth enabled will only work when they are in the Bluetooth range and optionally need one primary device to be connected to.
The others will require you to have a separate hub to which you connect the lights. In this regard, all Ikea products fall into the third category and need a bridge for them to work.
Smart vs. "Smart"
You also can choose if you want the full-on smart home experience where you can control your home using your phone, voice assistant, or when you are away, or you just want a straightforward wireless setup. Let's take a look at the option you have.
Option 1: For the full-on experience, you will need the Ikea Gateway, wireless remote control, and of course, light bulbs. Later you can expand and add speakers, plugs, and motion sensors.

Option 2: If you want a basic setup, all you need is the remote control and a few bulbs. If you decide to upgrade later, you can add the gateway to your configuration at any time, and you can expand the possibilities of your smart home.
I would not call the second option a smart home, as you will basically be controlling your home using a simple wireless remote. This setup will only work with light bulbs. You will not be able to control smart plugs or any other accessories. But if that is what you are looking for, you have the option.
The great thing with the Ikea product line is that you can start with the basic setup, and you can always expand later if you decide to. Whichever option you will go with, you will need one of 2 Ikea wireless remote controls.
Ikea product range
Let's look at the Ikea product range and what is on offer if you are considering setting up your home using only Ikea products. It can be confusing when you first look into the product range. There are so many options and starter kits available. I will try to break down each product the best I can. The products offered and prices will vary based on your location.
As I already mentioned earlier, you have 2 setup options. Are you looking for a full smart home setup? Or do you just want something really simple? This will purely depend on what you are looking for and what you wish to achieve.
Starter kits
If you do not own any Ikea smart home gadgets, it is highly recommended to pick up one of the starter kits. It will have everything you need to get you up and running. Ikea has a few starter kits available, and regardless if you want the basic or full setup, you can be sure that you can find the one that will fit your needs the most. If you pick up one of the basic kits, you will have a light bulb in the box based on the wireless remote capabilities. That means you will get a bulb that can change colour temperature from white to warm white. Or you will only get one set to a specific colour temperature, and you can only adjust the brightness.

Starter kits product line
Individual products
If you prefer, you can also pick up each product individually. I would not recommend this as it may cost more based on the setup you want to achieve.
Ikea gateway is the central hub. You will need it if you want to be able to control your home using a voice assistant, your phone, or when you are away. If you are going for the simple set up the hub is not required. It will cost 39.99 EUR (22 GBP / 35 USD)
Link: Tradfri gateway


Wireless remote control. This is the best remote that is on offer. It is also the remote I would recommend the most. You can control every type of light from the Tradfri lineup. You can use this remote to turn the lights on/off change the brightness, color temperature, and change the color if you have the color-changing bulbs. This remote will cost 19.99 EUR (15 GBP / 15.99 USD)
Link: Tradfri wireless remote


Wireless dimmer is the second remote that is on offer. As the name suggests it's purely used to turn the lights on/off and dim the lights. This remote can only be used with bulbs that are set to a specific color temperature. Therefore if you pair it with the color bulbs or the ambient bulbs where you can change the color temperature you will lose this ability. This remote will cost 9.99 EUR (6.99 USD)
Link: Tradfri wireless dimmer

Optional products
The wireless plug is another addition to the product line on offer. Simple smart plug which you can control remotely. It does not have any special features like some other smart plugs do such as energy monitoring. Based on your location you can find it as a kit with wireless on/off switch in the box. It cost 14.99 EUR ( 10 GBP / 9.99 USD)
Link: Tradfi wireless control outlet


The motion sensor is can be used with the lighting setup. You can set rules in the Ikea Home Smart app when you want the sensor to activate. This product recently received HomeKit support.
The motion sensor cost 14.99 EUR (12 GBP / 9.99 USD)
Link: Tradfri motion sensor


The shortcut button is one of the latest additions to the lineup. You can assign scenes to the button in the app and you can control groups of lights with a push of a button. It cost 9.99 EUR ( 6 GBP)
Link: Tradfri shortcut button

Light Bulbs
In this paragraph, I will tell you what you should focus on when choosing lights from Ikea. There are plenty of choices when it comes to light bulbs, so everyone can find the right fit. I'm not going to list all of them as there are way too many to cover. Instead, I will tell you what you should focus on when it comes to choosing the right one for you. All Ikea bulbs come with various types of base and brightness output, so you can find the right fit. Also, all smart bulbs are rated for 25,000 hours.
The main thing to look out for is the colour options you can have. Ikea offers 3 types of bulbs. White, Ambiance, and Color.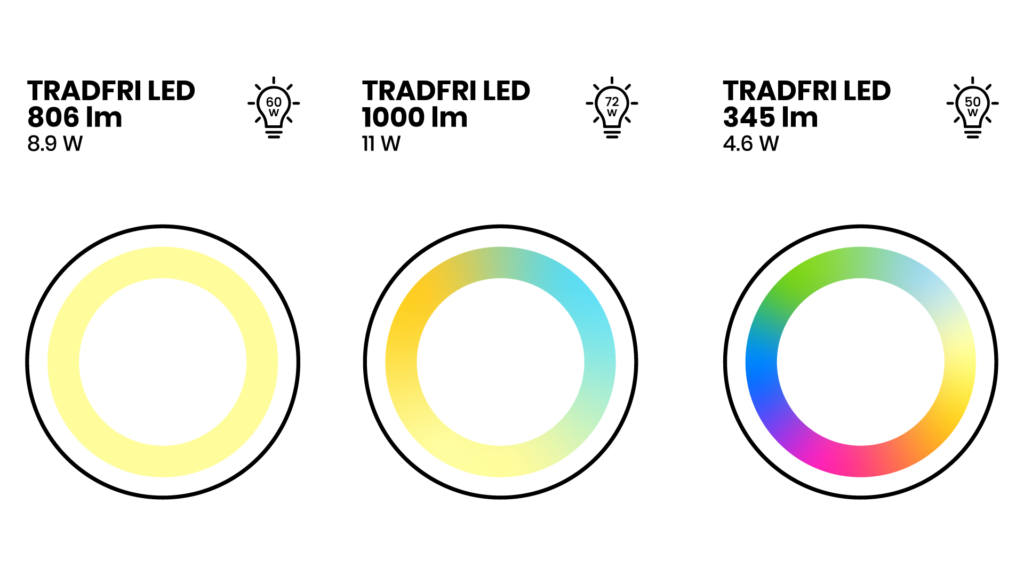 The first type is set to a specific colour temperature, mostly 2700 Kelvin and can't be changed. You can only adjust the brightness.
The Ambience bulb has a broader range of colour temperatures ranging from warm white to cool white. You can do that through the app or with the wireless remote.
The colour bulb, as the name suggests, supports colour light. If you are into colour-changing lights on the cheap, this is the one to get.
If you want to keep up to date with the latest Smart home news, you can follow HomeTech on Facebook and Twitter.