Today Eve has released a new app update with official Matter support. While Eve already offered support for Matter from December 2022, it was only available if you had signed up through Eve's website. You also had to use the Eve app downloaded via the Test Flight app. That means it was not available to all users.
Now, the 6.0 update to the Eve app brings full support for Matter-enabled devices.
What is Matter?
If you haven't been following the smart home tech news for a while, you may wonder what Matter is. Matter is a new smart home communication standard to solve compatibility issues across different smart home ecosystems. It is backed up by the biggest tech giants such as Google, Amazon, Apple, and Samsung.
If you are a HomeKit user, you must look for products with the "Works with HomeKit" logo. The same is true for Google and Alexa. Also, if you use Google or Alexa, some products will not work with these platforms as they are HomeKit-only products, such as Eve products.
More and more smart home companies are either updating their existing products or releasing new products with Matter support.
In the future, you should be able to walk into the shop and pick the product you want without having the need to check the compatibility with the ecosystem you are using.
Eve Matter-supported devices
After you update the app to version 6.0, you can upgrade all your eligible Eve Devices to Matter.
Eve Door & Window (3rd generation)
Eve Energy (Australia 2nd generation)
Eve Energy (Europe, 4th generation)
Eve Energy (U.K., 3rd generation)
Eve Energy (U.S. & Canada, 4th generation)
Eve Motion (3rd generation)
You can find the full list on Eve's website, which you can visit here.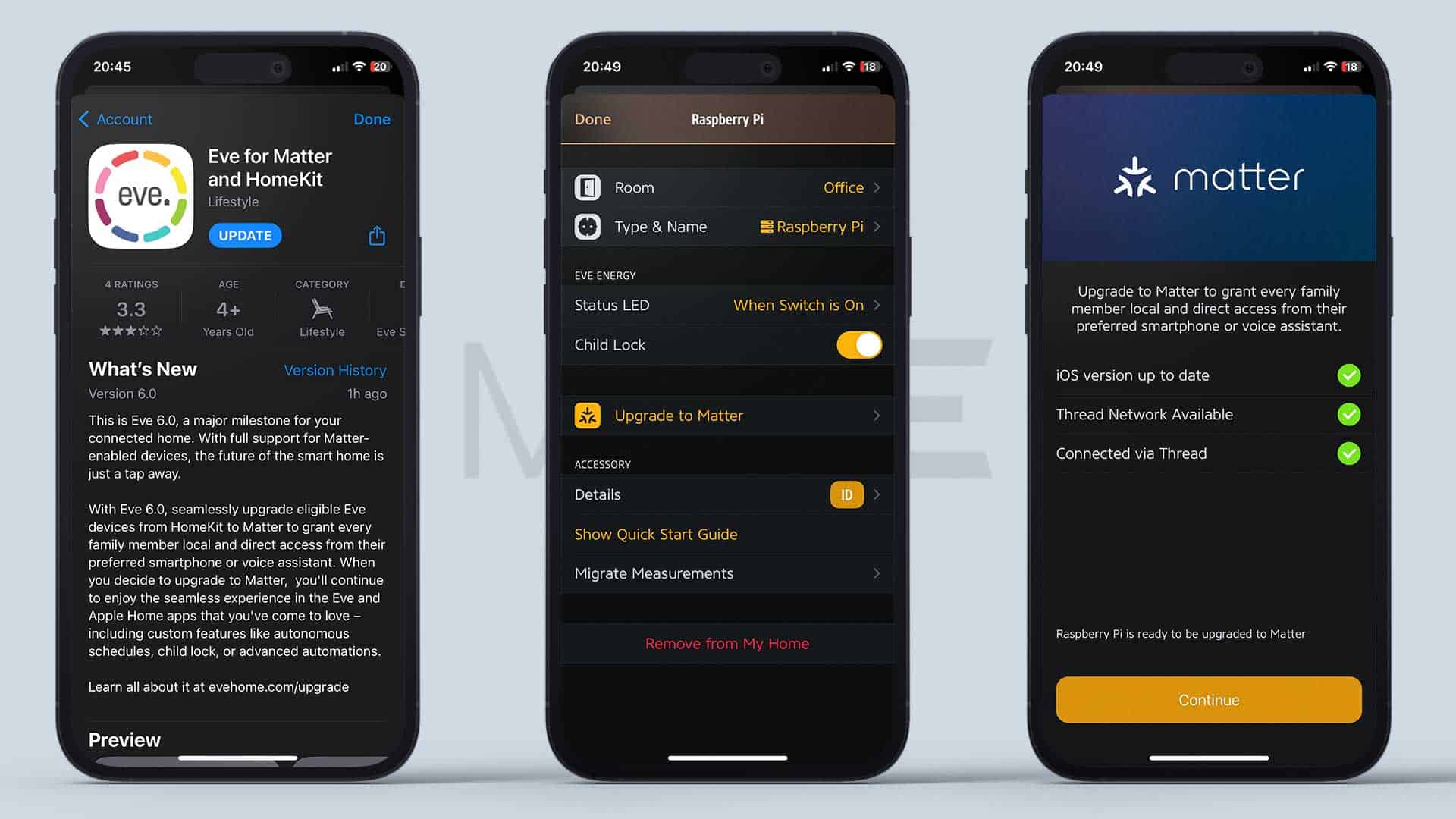 Should you upgrade?
If you exclusively use HomeKit, there is no need to upgrade to Matter as there are no benefits for you after the upgrade. If you, however, use other platforms too, or you want to use them in the future, such as Google or Alexa, and you want to use those platforms with Eve devices, then yes, you should upgrade to Matter.
I will be testing all the Matter functionality, including upgrading and adding the devices to other platforms, and will report back with my findings.