The original HomePod was discontinued back in March 2021. Today Apple unexpectedly announced a new full-sized HomePod.
The 2nd generation full-sized HomePod has more features compared to the original. While there is not much difference in sound apart from what Apple calls computational audio, there are some new features in terms of connectivity.
Audio
The 2nd generation HomePod will also feature a room sensing technology much like the original. It means it can detect if it was placed on a TV table close to the wall or is freestanding, and then it adapts the sound in real-time. The HomePod has one center 4-inch high-excursion woofer and an array of five beamforming of tweeters.
Here is what Apple has to say about the audio:
Woofer
"A high excursion woofer packs HomePod with deep, rich bass. Its powerful motor drives the diaphragm a remarkable 20 mm, while its bass‑EQ mic dynamically tunes low frequencies in real time. Superclean bass. Fills the room. Boom."
and tweeters
"HomePod has an array of five beamforming tweeters around its base. They optimize high frequencies to produce detailed, articulate audio with stunning clarity. So you can enjoy crystal-clear vocals and all the details of the instruments — just as if you were there in person."

You can still use the multiroom audio by asking Siri to hold the touch surface at the top.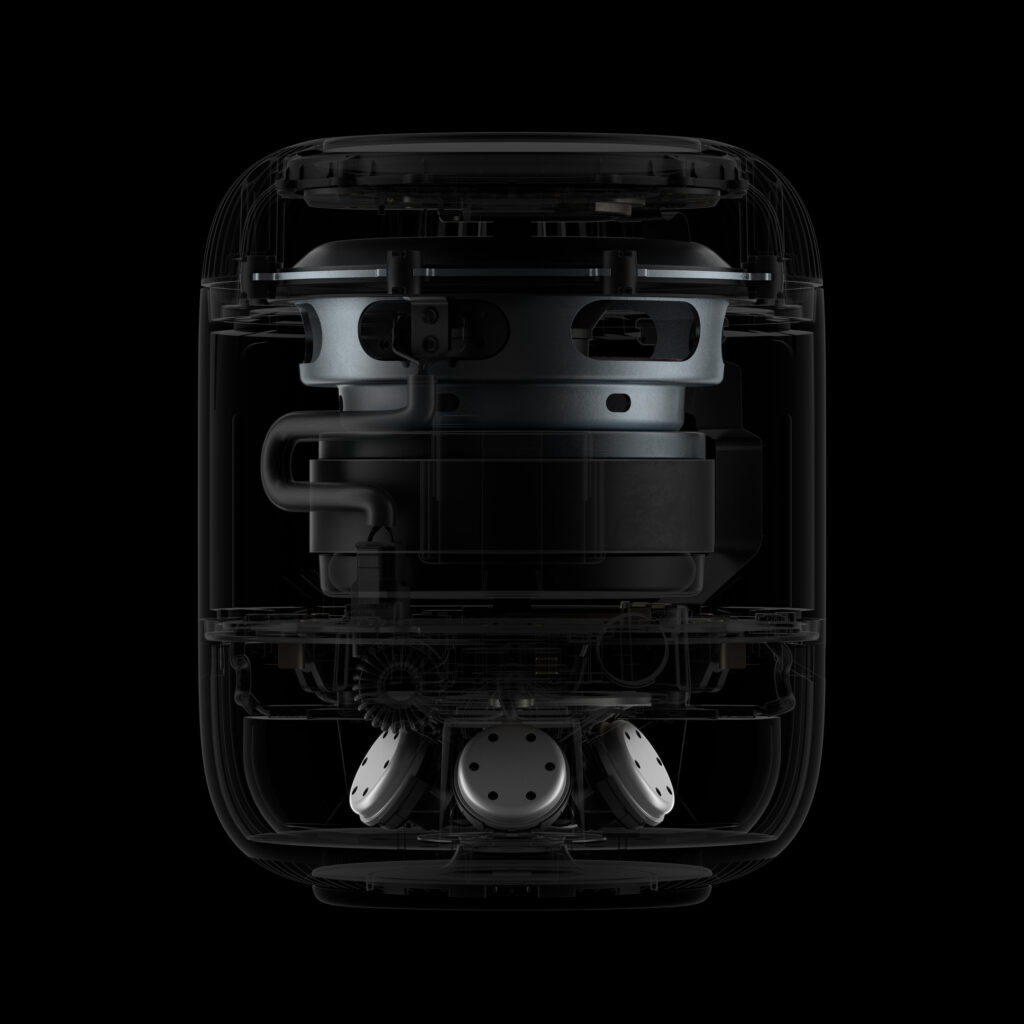 The 2nd generation HomePod will also support Dolby Atmos, and you can create a stereo pair for an immersive movie-watching experience.
Remember that you will need a HomePod of the same generation to create a stereo pair. That means you can only create a stereo by combining two HomePod minis or two full-sized HomePods of the same generation.
If you already own one the 1st gen, HomePod, and you will purchase the 2nd gen. hoping that you can create a stereo pair, it will unfortunately not be the case.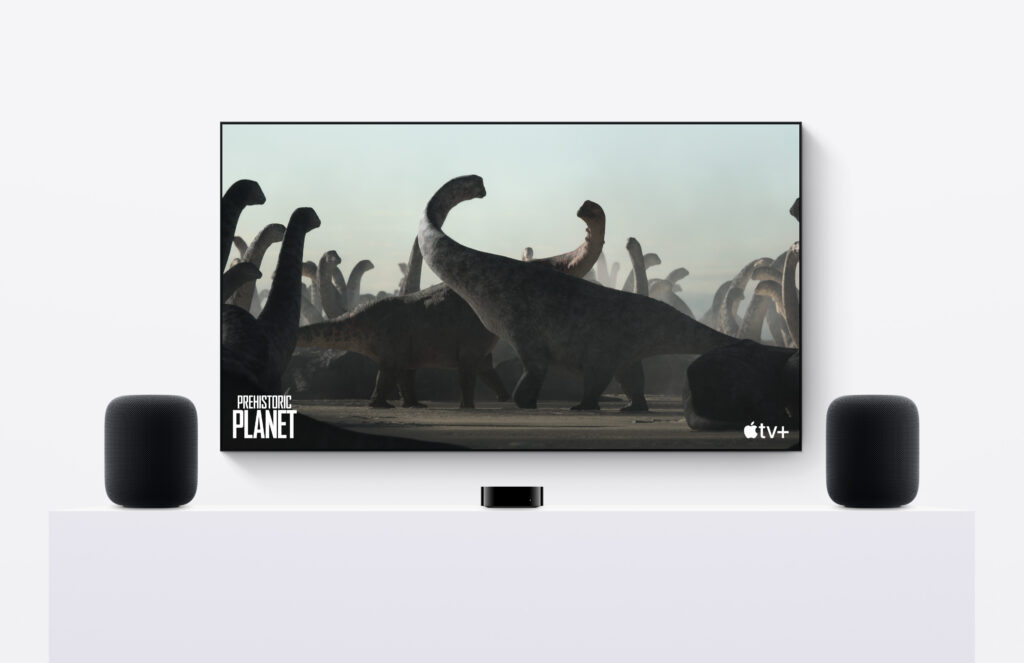 Smart home connectivity
The 2nd generation HomePod will support Thread and Matter for smart home connectivity and feature built-in temperature and humidity sensors.
This is the main difference between the new HomePod and the old one.
The new HomePod will also feature an S7 chip and a U1 chip which should improve the handoff feature.
Later this spring, Apple will support sound recognition, which will be used to listen for smoke and carbon monoxide alarms. If a sound from the alarm is detected, you will receive a notification.
For the Sound recognition to work, you will need to have all devices updated to the latest software, and you need to upgrade your home to the new architecture that was recently released and then pulled back by Apple. The new Architecture upgrade will be available again in the upcoming iOS 16.3 update.
Pricing and availability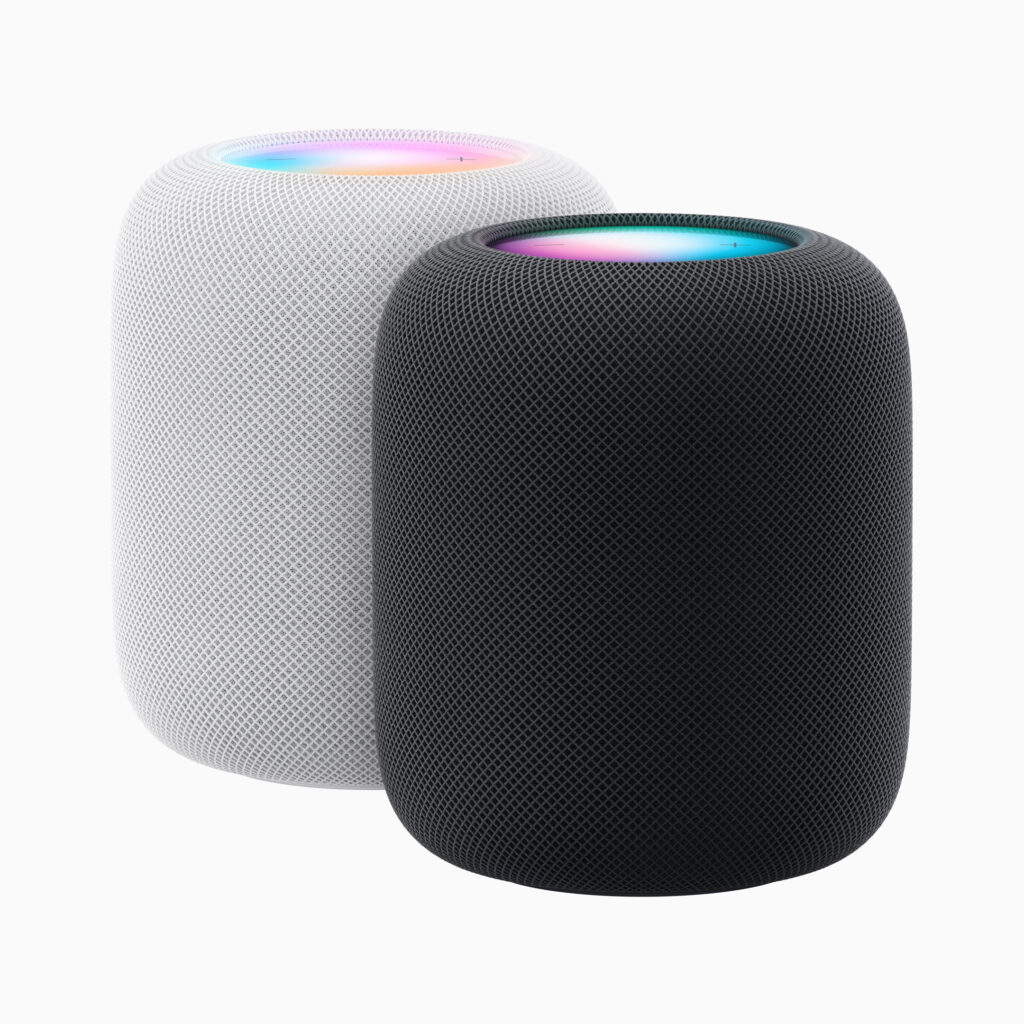 The HomePod will be available in 2 colors, Midnight and White. It is open to order for 299 USD. It is also available in Australia, Canada, China, France, Germany, Italy, Japan, Spain, the UK, the US, and 11 other countries and regions starting today, with availability beginning Friday, February 3. 
Pricing will vary based on the country. In Germany, the HomePod will be available for 349 EUR, in Canada for 399 CAD, and in Australia for 479 AUD.